Leggy Pot - Small in Mist white and earth clay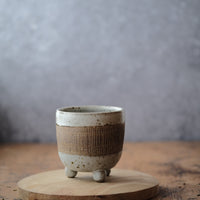 Leggy Pot - Small in Mist white and earth clay
Handmade stoneware Leggy vessel.
These cute pots are made with an earthy clay and fired in a reduction kiln to provide the distinctive speckle. 
Glazed in our mist white glaze inside and out with a contrasting centre band in brown matte underglaze and a carved feature
These are small leggies with a hole in the base. They can also hold whatever takes your fancy. 
Dimensions are approximately 10cm high and 9.5cm wide
Order is for one small Leggy  - the photo with a larger leggy pot is there to help with scale.